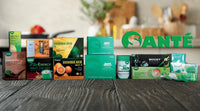 BE A SANTE BARLEY DISTRIBUTOR NOW!!
Avail our one-time Starter package to get a discount of up to 50% on your succeeding purchases.
Starter package comes with the following Freebies:
FREEBIES with a Value of = Php5,850 worth of products.
 ✔ 3 Boxes Barley Juice Sachet or 3 Canisters - ₱5,850
 ✔ Price-list, Business Kit, Flyers, and other marketing materials!
 ✔ Retailer Kit with Marketing Tools
 ✔ Activation Card
You can be a product user or use it for a part-time business :)
AVAIL MEMBERSHIP PACKAGE NOW!
Why Sante BARLEY?
- Barley Grass (Hordeum Vulgare) has one of the most balanced nutrient profiles. It is a combination of Micronutrients some of which includes Vitamins, Amino Acids, Minerals, Alkaline Minerals, Proteins, Phytonutrients, Antioxidants, Chlorophyll and Enzymes.
Grown and harvested on the farms of Canterbury Plains of New Zealand, Santé Barley grass not only grew in fertile soils, with clean water irrigation and on one of the world's least polluted environments but also on a farm that is certified organic by BioGro – New Zealand's leading organic certification agency.